Nowadays, 5G is expected to reinvent entire industries with new applications and business model that will emerge in response to shifting technology and business landscapes. In past 2 years, there was an unignorably demand – AIoT with Edge Computing + Cloud to achieve the large growth in different market segments.
We can see the networks have been evolving to provide reliable communications and computing capability at the edge. Edge computing provides compute and process to applications. The major benefit is to gain the enablement of lower latency and backhaul cost saving. The IoT solution or service provider will enable to deploy edge computing elements to address specific services and applications.
From now on, emerging 5G markets and applications including smart manufacturing, transportation, XR (AR/VR/MR) applications that all leverage on a lower- latency, requiring a range of data bandwidth. 5G can make all these happen.
However, 5G is still in its early stage. On this moment, not a huge number of users implement 5G enabled devices and 5G rollouts are being concentrated primarily in high-density urban, science technical parks and major manufacture locations. But its deployment is accelerating. EtherWAN would like to be the role that is in advancing and leverage this new technology to achieve better IIoT device and solutions for industries. Let's check EtherWAN's 5G Mission.
The evolution from 1G to 5G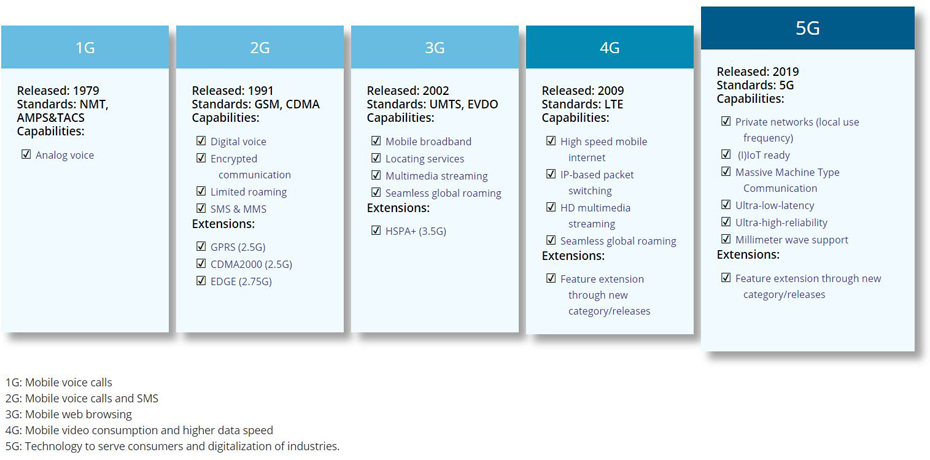 Evoluation of connectivity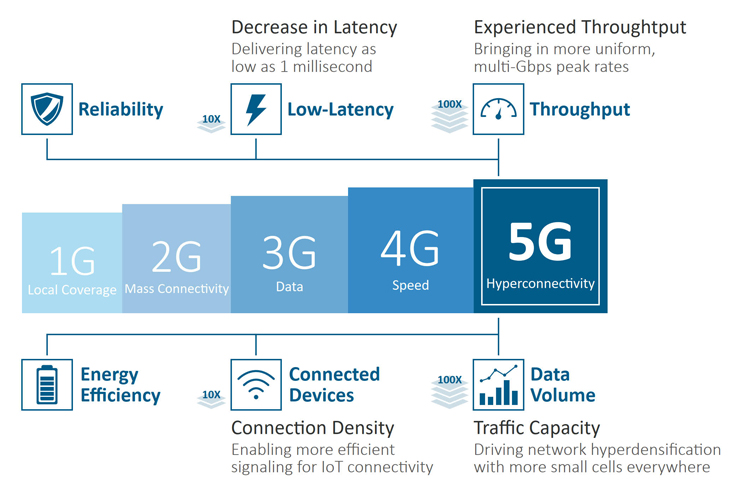 Five foundational elements to achieve 5G
Software based architecture
Decoupling network functions from underlying hardware is essential to enable key 5G capabilities. This is achieved by virtualizing the 5G network core wherein software performs functions previously performed by dedicated hardware.
Multi-Access Edge Computing (MEC)
MEC allows for storage/processing of data closer to the consumer (referred to as network edge). This is essential to enable near real-time content delivery and context-aware services.
Small cells
These are radio access points with a low radio frequency power output, close-range capabilities, and a small footprint.
5G NR
5G NR is a set of infrastructure and architecture standards proposed by 3GPP, for radio access technology required to enable 5G. The key features of 5G NR—massive MIMO and beamforming—increase spectral efficiency by 10 times compared to 4G.
Full range of spectrum
Spectrum bands are typically divided into three categories: low band (under 3GHz), mid band (between 3-24 GHz), and high band (above 24 GHz). Both mmWave and sub-6 GHz spectrum bands will be needed to deploy 5G. mmWave will likely be more prevalent in urban environments while sub-6 GHz will be used to cover rural areas.
5G Trend & its applications
5G is considered one of the largest market opportunities in the coming years, with large scale roll-out of infrastructures and rapid adoption of 5G devices and services. 5G will not only accelerate the growth and expansion of telecoms; it will also redefine and accelerate industries such as automotive, transportation, computing, and manufacturing.
5G is not a killer application, but it is a killer platform. A powerful technology that delivers fiber speed and wireless flexibility. Various valuable applications can be deployed with 5G NR to offer brilliant solutions.
No matter if it is the 5G NR trend or the applications, we should take a look at this chart first!
3 major points- eMBB, URLLC and MMTC will be the key to move industrial IoT, there are iconic applications that leverage 5G major characteristics.